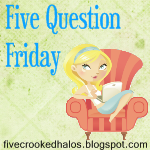 1. Do you sing out loud in the car when you're driving?
yes, when my husband isn't with me
2. What would you never be caught doing?
Singing when my husband is with me. He thinks I can't sing.
3. Will you go #2 in a public restroom?
If necessary
4. Have you ever broken a bone?
Yes a finger when my husband slammed the trunk of his car on my hand
5. Do you prefer cooking or baking?
Baking, I don't do enough of it.
Check out
http://fivecrookedhalos.blogspot.com/