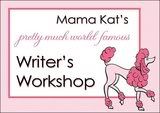 Oh how to narrow down the list and pick one. I guess it would have to be being stuck in the same uncomfortable place in my marriage. I wonder why I can't change, why I deep doing the same things, making the same mistakes? Am I not committed enough to making a real change? Do I just go through the motions? What steps do I take to change? I beseech God every day and night and still I see no change. Does He hear me? Do I lack faith? Am I weak?
I give advice, have faith, listen to God, remain strong in your faith. How do I take my own advice? I'm not sure how to do it.
When will I change and let this go? When will I stay committed to what I take on?